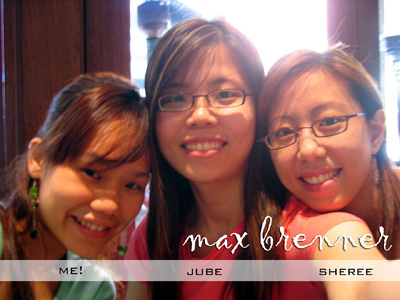 wat can beat a good company of chocolate addicts and coffee?
ABSOLUTELY NOTHING!
the sun was shining and the cool breeze blew across our cheeks as we headed down to vic mart this late morning...i looked up to the sky and saw fluffy white clouds and a really blue blue sky!
Into vic mart here we come! i bought a whole tray of beef!!! for $10 which i think can last me for 3 months!!! *big big grin* yups!!! and our bidding photographer was tracing me and sheree's footsteps all the way!!! after my cheap buy, we went scouting for strawberries!!!
As usual , i bougth the regular 2 punnets for $2....
Next, was...a big head of iceberg lettuce for my daily sandwiches!!!
haha..and i was done marketing for the rest of the week!!!
we walked along the sides into the non-edible section....and lingered at the musical box section...turning and twistin the handles....jubes was tuning in to moon river!!! it was soo sweet!!! as the music tingled in the ear...AAWWWWW.....
then we passed by a section of the market which i have never been before and saw sooo many earrings and necklaces!!! oh i'm such a sucker for such things!!! and couldnt resist the temptation of 2 pairs for $5!!!!
And i bought 2 dangling ones...one with sequinnes and another with small pink pearls...so sweet and girlish!!! hahaha...as we strolled down the aisle, sheree happened onto this stall..where they were selling wooden and bone jewellery!!! and i bought another pair!!!
quik quik! i must get outta here!!!!
the next stop was at

M A X B R E N N E R S

!!!!
me and jubes had the frothy DARK mocha while sheree settled for the white one. We shared the decadent strawberries and waffles...and a babka...which was like some huge cinnamon muffin toppled with hot creamy chocolate!!!
OH!!! how i wish i neednt go to skul tt day!!! i left the gals at 3pm to go for my elective...sob sob.
~

chocoholic

pink